Toms began making his own electronic music at the age of eight, citing inspiration from Skrillex, Will.i.am, Martin Garrix, Avicii, and Flume. He set up a home studio in his father's office and uploaded three tracks to Triple J Unearthed. One of his debut tracks, "Toxic Nirvana", was accompanied by a stop-motion music video made with Lego.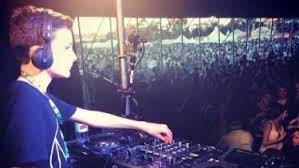 He lives in Canberra, Australia, with his parents Rick and Nicola Toms. When Triple J Unearthed discovered him at the age of 11, he attended Maribyrnong Primary School in Kaleen, Australia. He began high school in 2016
In February 2015, Toms was discovered by an Australian radio station. He then appeared in a mini-documentary for Triple J about musicians in regional Australia. The documentary went viral, accruing more than 2 million views. New World Artists signed Toms, and he began producing music professionally under his DJ alias Black Summer.
In 2017, the music video for "Young Like Me" by Black Summer feat. Lowell (directed by Tim Maxx) launched on national television in Australia on Nine Network. The music video was filmed in Los Angeles
SPONSOR